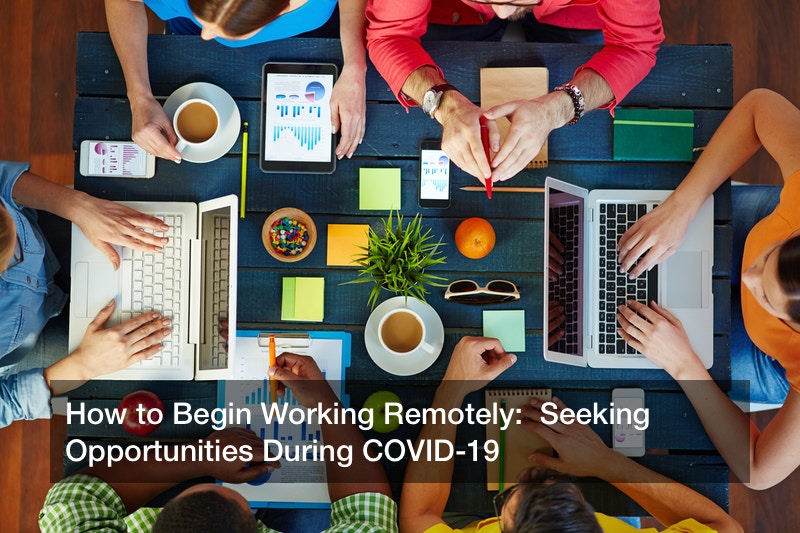 The rise of the COVID-19 pandemic has cost many hardworking individuals to lose their jobs. While this is a devastating outcome, the rise of the pandemic has caused these people to adapt to their unique circumstances. Many people have chosen to work remotely. If you're interested in switching from a normal 9-5 to a remote job, continue reading. Here are some of the most popular jobs that can be worked from home. You will also learn how you can ease your way into the wondrous world of freelancing/working from home.
Working remotely with these untraditional jobs

Customer service work
Here's an idea for people who love chatting with others. Consider this remote opportunity! You can work from home through a company that outsources its customer service. You can work for food service equipment companies or for a dermatology service. It's an easy trade to pick up, and these companies are always looking for reps to work with their brand.
Sales
If you had a previous job in sales, you'll be glad to learn that you can use those same skills by working remotely.
You can host for a web hosting service. These days, web hosting is crucial if you want to start a business, which means you will always have clients who will need this product. Demand is always high, and you can make a considerable amount of income through this method!
You can also try selling independent insurance plans. Like web hosting, people will always need insurance. If you're new to sales, try selling something that practically sells itself!
Deliveries
If working from home sounds like a drag, you can always work for a delivery service. This job will keep you on your feet. No day is ever the same, so if you're looking for something more fast-paced, you'd love this job!
The number of delivery jobs has skyrocketed to boot. You can look into medical cannabis delivery services. You'll be providing people with their medicine, which also makes this role incredibly fulfilling.
Graphic design
If you have experience with art and graphic design, this can be a great solution for you! You will need to familiarize yourself with certain programs like Photoshop. However, you will get better as you practice! You can also design logos, color pallets for brands and help create websites for small businesses.
Photography
Photography is another highly sought out skill that can help you land a new job by working remotely. Turn your hobby into a career! If you already have a camera, you can start by building a portfolio of your best work. Send this to potential clients so they can see what you're capable of.
Build up a portfolio made of multiple product photos you have around your home. This allows you to market yourself to various companies and small businesses in your area. Make a photo studio at home by investing in a high-quality backdrop.
Writing
Writing is another skill you can do while you're at home. If you consider yourself an impressive writer, then perhaps learn how you can start working remotely through writing blog posts, articles, and ebooks. There is always going to be a demand for talented, yet concise writers on the market — especially in this day and age of social media.
Blogging
Blogging requires top-notch writing skills, but you will also need to have a vast amount of knowledge in your selected niche.
You can blog about anything and work remotely. Blogs can earn you up to six figures annually if you play your cards right. You can make money through sponsorships, services, ad revenue, and more.
Blogs can include a wide array of topics such as beauty, lifestyle, pets, fitness, marketing, toys, parenthood, and more!
Select a topic that you can write about for hours.
If you select a niche that you hate, it will be impossible to get your blog off the ground. You'll need remote access to servers if you have thousands of site visitors each day, so be prepared! You can even write articles for a long term care facility in your area if you want to sell writing services on your blog.
Personal trainer
If you're interested in fitness, you can also earn a living as a stay-at-home personal trainer. It may sound like a foreign concept. However, the pandemic has closed several gyms across the nation. Furthermore, many people fear restarting their gym membership if they are at risk fo contracting the disease.
You can bridge the gap and create fitness courses from the comfort of your own home. You can also do live training and hold classes with multiple people. However, you can also sell fitness ebooks that your clients can download and enjoy when they can't reach you.
Life Coach
You can also work as a life coach and help people get their life back on track. You will need to get certified before taking on clients. However, once you have a license to coach, you can work with top-level executives and everyday people!
Sell handmade goods
You can also sell homemade clothing and jewelry online. This is a viable business plan! Especially since many consumers are looking to avoid fast fashion. You can open up your online store through Etsy or Shopify!
You can create things like:
jewelry
cosmetics
clothing
body scrubs and lotions
Create digital products
Here's another way you can work from anywhere in the world!
Consider creating a company that sells digital products. Digital products are rising in popularity, as the buyer won't have to wait days for their order to come in. They will receive their product immediately through email!
You can create presets for photographers. These presets will help creatives make more stunning photos when editing in the program Lightroom.
You can also sell printables! Printables can help everyday people get organized. You can create schedules, planners, food prep calendars, and more! You'll need some design skills for this job.
You can also create web courses on nearly anything! You can create a course on eating healthier, making more friends, or mastering skateboarding. Discover what you're passionate about and try to center your online course around that!
Start your own marketing agency
You can also start your own social media and marketing agency. You'll have to learn the ins-and-outs of social media for this idea. But once you get it down, you'll find that your calendar will always be full. After some time, you won't have to hunt for clients either. They'll start coming to you!
While you don't need much experience to start your own agency, you will need to possess an interest in marketing. You should also have skills relating to photography, writing, social media, blogging, website design, and time management.
How to get started working remotely
As soon as you pick one of these fields, consider all the factors that go into landing your dream job as someone who is working independently and remotely.
You are essentially starting your own business. YOU are the product, so you will need to learn how to sell yourself and your skills properly.
Select a topic that you can write about for hours
If you select a niche that you hate, it will be impossible to get your blog off the ground. You'll need remote access to servers if you have thousands of site visitors each day, so be prepared! You can even write articles for a long term care facility in your area if you want to sell writing services on your blog.
Starting with the right mindset
Working remotely can be just as hard as working a traditional job! Sure, you won't have to deal with traffic or your boss looking over your shoulder; however, working remotely has its own drawbacks that you'll need to prepare for.
For starters, get ready to face a lot of rejection.
It's a difficult but necessary aspect of starting your own business. If you're new to working remotely, you'll struggle to find a lot of clients in the beginning. However, remain patient, and work hard every day! Eventually, you'll find that one client who is willing to take a chance on you.
Don't undersell yourself
While doing work for free at the start is a great way to gain exposure, you can't pay rent and buy groceries with exposure!
Don't work for pennies and don't undersell your services either. Doing so can make it seem like you don't know what you're doing! Set a fair rate, but always raise your rates as you gain more experience, more clients, and more confidence.
Finding a place to work when you have a team
If you wish to work remotely, then consider investing in a virtual office space. This allows you to meet with your team effortlessly so that you're always on the same page!
Working from home and creating the best space possible
If you are in the beginning stages of getting your online business off the ground, then consider upgrading your home. You want your house to feel like a safe and creative space. Especially if you're working as a writer, photographer, or graphic designer!
Invest in glass and mirror installations. This process will make your home feel more inviting. Mirrors and glass will allow more light to enter the home, which can help with your creative process dramatically!
If you're spending a lot of hours at home, also look into a water treatment service. Drinking plenty of water throughout the day is key if you want to stay fit and healthy while working remotely.
Learning time management skills
When you're at home, it's so easy to get distracted! One second, you're trying to work, and the next, you'll hear the baby crying or the dog barking. Before you know it, your day is over, and you've accomplished next to nothing! It can be frustrating. Many people don't like working remotely for this very reason. However, as long as you adapt and learn to utilize your time wisely, you'll be able to plan accordingly.
If you're still struggling to find the time to work, consider looking for an office. Working remotely doesn't necessarily mean that you're working from home. You have the freedom to work wherever you want now!
Rent an office if you feel like you need to get out of the house. You can also convert a spare room in your home into an office.
Wrapping up
There are various ways you can adapt during a pandemic. Losing your job is never easy. However, finding a new opportunity may be your only option at the moment. Luckily, with this day in age, it's never been easy to work from home. Technology makes it easy to set up a website and to find clients, even if you're hoping to break into the parcel contract auditing business!
Select one of these jobs so that you may begin your new career path by working remotely and fall in love with all the perks while doing so!