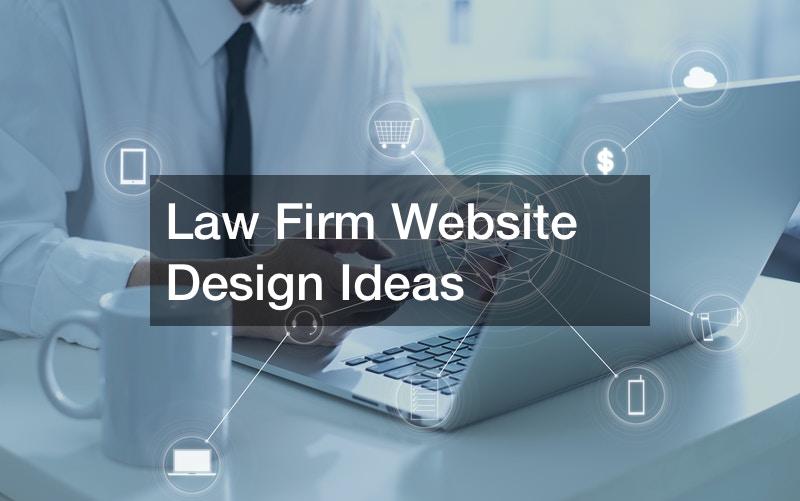 From bail bonds to personal injury and car accident lawyers, and every lawyer in between, today's legal clients are looking for you online. When it comes to law firm website design ideas, today's law firm or solo lawyer may find the task a little out of their wheelhouse. You intuitively know you need something to catch attention and convert readers into new clients. You just don't know how to get there.
Follow these suggestions for any kind of law firm website.
Why You Need a Law Firm Website
The 2019 Legal Trends Report confirms you need a website by indicating that your next client is just a Google search away. Approximately 57 percent of legal clients searched for a lawyer online independently without a referral. The most common tools used are Google and other search engines 17 percent of the time, and visiting a law firm or lawyer's website another 17 percent of the time.
Regardless of what law firm website design ideas you are considering, this is data that tells you that you need a website. How to do it?
Know Why You Need a Law Firm Website
You know you need a law firm website because new clients are looking for one for you. But that isn't enough. What exactly do you want your website to do? Answer this question before you begin your legal marketing campaign. Here are the most important things to consider:
More traffic to your website that converts to new legal clients
More online reviews
More positive mentions on social media and elsewhere
An increase in initial consultations booked
You probably want all of these things as answers to the "why" you need a law firm website. With a basic website, you can accomplish all of these things, and increase your social media presence. The more you are online, the more new clients are going to find you.
Before you pass the law firm website design ideas stage, have concrete answers to these points. Tell the answers and your ideas to your marketers and they will accomplish the technical rest for you.
It doesn't matter what kind of law firm you have. Criminal lawyers, divorce lawyers, separation lawyers, personal injury lawyers, a car accident lawyer, probate lawyer, and truck accident lawyers, probate lawyers, and separation lawyers, all have law firm websites that convert readers into new clients.
Start with deciding what you want on your essential pages if you are starting small. Look at other law firm websites in your local area and take notes of what you like, and what you don't.
What Are Your Essential Pages?
Whether you are a franchise expert, a divorce lawyer, or a criminal attorney, you don't need an extensive and expensive online presence to attract new clients. But having something helps. If you do nothing else with your law firm website design ideas, have only the essential pages established. Your new clients expect to see the basic minimum. Those are the clients that will be with you for the long haul, and also send you referrals. The essential pages are:
About page
Contact page – address, email, phone, social media
Online consultation page
Testimonials
Fees
Contact Us Pages
Your "Contact Us" page can include a Contact form where potential new clients can briefly explain their claim and wait for contact or consultation booking from the firm. Another of the best law firm website design ideas is to have them book a consultation directly online, then you don't give potential new clients a chance to think about it and cancel.
Testimonials
You also need to be careful about testimonials and check with your state guidelines. Some states have guidelines on what testimonials you can post and how, due to privileged information. Even so, a good review is a good review and when disclosed with consent it can often be used.
Fees
Every potential client knows they will have to pay legal fees of some kind. But as you know, every lawyer bills their own way. Car accident lawyers and truck accident lawyers are often working on contingency. A divorce lawyer or a separation lawyer might work on retainer. Estate and probate attorneys may work on flat fees.
Be clear on your website about this. Your new clients are looking for this exact information. You don't have to feel bad about telling them you will get paid at some point, they expect it.
Local Pages Info
When you are developing your law firm website design ideas, keep your location and region in mind. When new clients are looking for a lawyer, they aren't searching for "car accident lawyers" or "separation lawyers" or "bail bonds help." They are looking for "South Carolina car accident lawyers" or "Arkansas bail bonds attorney" or "worker's compensation lawyers in Michigan."
Google calls these terms "keywords." The term "lawyer" is going to be a short-tail keyword. The term trusts lawyers in Florida is going to be a long-tail keyword. More users at Google are entering long-tail keywords than not when they are looking for a lawyer because their needs are very specific.
You attract and convert more readers when your website is optimized with these long-tail keywords. You optimize your website by making sure these keywords are on the page as much as possible. So, instead of saying, "Call our law firm today" you would want to say, "Call the best San Bernardino financial attorney today."
Those keywords are going to be indexed by Google. That means that Google is going to be ranking websites according to how many keywords they find on a specific website. The more keywords you have, the higher your website will be on the SERP (search engine results page.) The higher your ranking, the more likely the reader is to click on your firm. So you want to keep those region-specific keywords in mind when you are implementing law firm website design ideas. That's what will get them to your page.
So now you have your reader at your law firm. How are you getting them to pick up the phone?
Know Your New Clients
If you have the essential pages, and you know how to attract clients, you still need to land the client. That is difficult in the United States with each the best law firm website design. It is estimated that America is home to approximately 70 percent of the world's lawyers.
What do your readers need to become clients? They need to know you understand them. Copy on your website that identifies their needs helps. But they also want you to be affordable and responsible.
A 2017 legal trends report said new customers become new clients when their first call or email is answered 67 percent of the time. Another 64 percent said a free first-time consultation locked it in for them.
You don't have to be car accident lawyers to offer a free consultation. Even divorce attorneys can lock in a client on a free consult. That could be a $50,ooo bill for you at the end of it all, or even $10,000 on a very easy case. Give up a free hour and it tells readers that you are paying attention to what they need.
When you are adding copy to your website, be simple and use simple terms. Don't talk like a lawyer until they are right in front of you. Be clear and concise.
Tell them to do something before they leave the page. Use Calls-To-Action that sound like, "book a consultation now with the most experienced franchise attorney in San Francisco."
Design Your Law Firm Website Around Your Experience
You may only have 2 to 4 essential pages, and you want them to all pack a punch. You do that with long-tail keywords, testimonials, and free consultations. But you also want to establish a relationship with your new client before they even get there. Most new legal clients want someone with a history of winning cases, big or small.
Publish that on your law firm website, and design your law firm website around that. Every kind of law firm will have a different way of doing that.
Here are examples for the most common kinds of attorneys, and how they do that:
Personal injury attorneys: "Car accident lawyer and truck accidents lawyer with $200 million in wins over 20 years."
Criminal law lawyer: "Number 1 rated bail bonds attorney in New York"
Franchise law experts: "Corporate attorneys with 10 clients on the Fortune 500 list"
Workers Compensation lawyer: "$75 million in claims won in Michigan Worker's Compensation claims"
Probate lawyers and estate attorneys: "Planning Florida families lives since 1952"
Family law attorneys, separation lawyers, and divorce lawyers: "Empowering Washington D.C. families for decades"
Trust lawyers: "We've been handling Utah's trust planning for generations."
Tax and financial attorneys: "Managing millions of Georgia's assets for 35 years"
Your website needs to tell your clients you know who they are, and what they need. You can use emotive words that make them feel something when they come to your website. Tell them you know where they live, what they are going through, how they are feeling, and how you can help.
Keep Things Visual
You want to have good copy (good content, good writing) integrated into your law firm website design. But you also want to keep things as simple as possible. Use video testimonials, big call to actions, and large-sized buttons for your clients. Many of them will just do some simple scrolling.
You don't have to add everything and the kitchen sink at once. You may later decide to add fun things like podcasts, blogs, infographics, or longer articles to promote your law firm website. But don't try and chew all of that at the beginning.
Keep things simple for your new clients, and use as many authentic and credible visual aids as you can. These will jump out at them as professional and credible.
Stay on Budget With Experts
It doesn't matter what kind of law firm you have, if you are solo or in a large firm, you are thinking of budget. A good marketing consultant can get the basics of your law firm website design ideas off the ground in just a few weeks. Start with the essential pages, and plan your budget around your first consult with a website design consultant.
Every law firm, solo or otherwise, is going to have a marketing budget. Whether you are a bail bonds attorney, criminal lawyer, divorce lawyer, or a trusts lawyer, you will want the world to know you have a shingle out.
Some studies show that many law firms are using 50 percent of their entire advertising budget on law firm website design ideas. Another 40 percent of law firms say their marketing budget is 76 to 100 percent dedicated to online marketing. That is because online marketing for law firm website design ideas actually work.
Today's new legal clients are using the Internet to find you. Your investments here will pay off. Approximately 35 percent of law firms aren't doing that. So it is never too late to get this ball rolling. Even the lawyers around you in your own region may just have a page or two online, if anything. Look up every lawyer in your region and take notes on their website before you spend money on online marketing. Then tell your consultant to do better than that.
It is estimated that approximately 86 percent of law firms have a website, and only 57 percent of solo lawyers have one. You may have never needed one before. Now you do. You don't need to spend thousands to design a law firm website. You just need to know that you need to invest in this to see your business grow. Contact an expert in law firm website design today and your business will grow tomorrow.