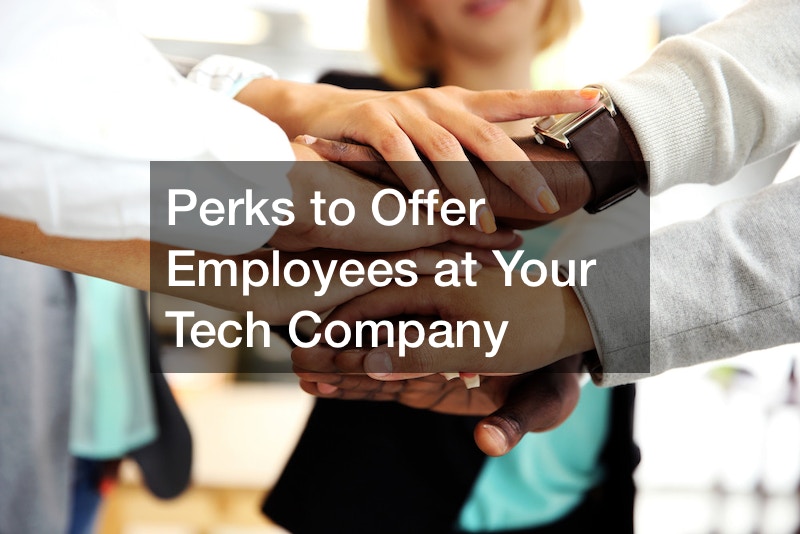 According to a 2018 hired.com survey, roughly 55% of tech employees interviewed, listed perks as the biggest contributing factor when assessing a job offer or looking for a job. Therefore, by offering perks such as health insurance, paid parental leave, relocation stipends, wellness programs, etc., you can set your tech company apart from the competition by ensuring your employees feel valued, which helps lower employee turnover.
Perks keep your staff happy and more satisfied with you, and they're less likely to burn out when they're motivated to give their best and when they get plenty of rest. In such an instance, benefits like flexible work programs paid vacation, and work-from-home schedules will come in handy. That said, this review will list perks you should consider offering your employees.
Bespoke Experiences
Currently, people are looking for employers that will truly care and recognize them. As the top talent market becomes more and more competitive, lowering employee turnover has become a priority making bespoke employee perks more vital than ever before. Bespoke employee perks have a substantial effect on company culture improvement, employee motivation, and lower turnover rates.
You can offer your employees local and global personalized experiences from weekend getaways to intercontinental cruises and anything else that appears to be meaningful to them on an individual basis. Some companies with bespoke experiences for employees include Glassdoor, GoPro, Salesforce, and many more worldwide.
Car Services
Your employees will appreciate car services within the company premises. These can include parking lot repair services, including where specific employees park their vehicles. Also, you can offer to install affordable window tint, fuel their vehicles in partner petrol stations, and if they own electric cars, you can have on-site car chargers.
For those who don't own vehicles or don't like driving, you can offer them corporate transportation to and from the office. This will make them feel valued, ensuring they show up to work on time and give their best.
Discounted Rates for Company Products and/or Services
Giving your employees discounted rates for company products and/or services can be an exciting perk. They feel honored by their employer when they can get gadgets and/or services at discounted rates before or after official releases.
Many tech companies like Apple, Google, and Samsung have adopted this perk by offering their employees products before their official release. This helps them kill two birds with one stone in that employees are happy because they get the best devices for a fraction of the cost and their employers use them to beta test their products. In case of any issue with the product, employees will inform you, and you can make the necessary adjustments. This will help you save cash that could have been wasted on product recalls and client refunds.
Flexible Working Schedule
Flexibility is slowly becoming a favorite among employees trying to balance professional responsibilities like work and personal responsibilities like education and family. This is especially the case for staff who have kids at home. According to the BLS, in the United States, both parents are employed in roughly 60% of homes with kids.
A flexible working schedule, including permission to work from home, is a necessity for such employees who have a lot on their plate. Giving employees flexible work schedules proves that you trust them, leading to higher engagement.
Health Insurance
According to an employee confidence report by Glassdoor, 40% of those interviewed said they valued healthcare insurance over salary increments. There are several reasons, but perhaps the biggest one is that healthcare is expensive. The only way for people to afford health services for themselves and their families is through their employer's insurance.
Employer health insurance is cheaper than public health insurance such as Medicare and Medicaid and private health insurance like Cigna and CVS. Another reason employees love this perk is the peace of mind knowing that in case of any eventuality like an accident or illness, they and their loved ones are covered.
Also, there are perks you get from giving your employees health insurance. For instance, you get fewer cases of absenteeism due to illnesses because your employees undergo check-ups that offer preventive care. Also, employees feel indebted to you for protecting them and their families, so they tend to be more productive at the workplace.
In-house Professional Development
You can offer in-house professional development programs to help employees advance their careers. How? It could be through in-house training or apprenticeship, where junior employees work under the tutelage of senior employees to help them learn what their senior counterparts know. Some companies use in-house professional development to train future leaders. A good example is Microsoft; rather than poaching their current CEO, Satya Nadella, he grew inside Microsoft, a company he joined when he was a young engineer in 1992. This perk helps employees have something to work towards hence improving productivity.
Open Work Spaces
As a tech company, you can provide your staff with open working spaces. This concept has been successful in companies like Linked In and Microsoft, where employees don't have to work at their desks; they can work in open spaces if it helps them be more productive.
You can make use of your outdoor by calling a tree installation company to plant trees and a commercial paving company to install pavers in outdoor spaces where your employees can work in a serene environment. Also, you can hire one of the top commercial roofing companies to install transparent roofs on your premise, which increases the amount of natural light; employees tend to be more productive in well-lit areas.
Paid Leave or Vacation
Like health insurance, employees value paid leaves or vacations over salary increments. Some companies have heightened this perk by providing open vacation policies and off-duty summer Fridays.
While it might seem counteractive that companies like Google and Netflix have an unlimited vacation policy, it can have a positive impact on staff and make them more productive. An open vacation policy doesn't mean that employees can take six months off and expect a salary for each month; instead, these organizations allow staff as much paid leave as they need for unwinding and restoration as long as they're productive and meet deadlines.
Aligning paid leave with results rather than basing it on days worked can have a positive effect on the productivity of your staff. Not only that, extended paid leaves signal to employees that you trust them to meet their deadlines without supervision while they take time off. This level of trust established trust, thereby inspiriting employee loyalty and productivity.
Paid Parental Leave
It's not often said, but career development often includes making difficult choices. Career men and women must choose between successful careers and good family life. Some even delay having spouses and kids to focus on their work.
Unfortunately, what's often seen as a benefit to employers is a disadvantage to their employees because they have a hard time establishing relationships with their kids. Those who wait can experience fertility problems due to waiting too long to get kids.
Most employers often don't acknowledge such issues, but some companies have come up with solutions to create a strong work-life balance. For instance, Apple announced that it would offer egg freezing service for its female staff. On the other hand, Netflix offers paid maternal and paternal leave for up to one year.
Offering your employees paid parental leave for up to a year and fertility programs like egg freezing services cultivate a good relationship with them because they feel valued by their employer. As a result, there are less burdened by family issues meaning they will be more productive. This also inspires loyalty which promotes employee retention.
Performance Bonuses
As illustrated above, most employees are not so much into monetary incentives; however, that doesn't mean they don't work. To make monetary incentives work, you must connect them to emotions that keep employees productive.
One of the best ways to do this is performance bonuses. By rewarding the efforts of your employees, you give them a sense of purpose which motivates them to do even better the next time and makes them own their role in the company. Therefore if they work hard and reach the set goals, they earn the bonuses they deserve.
According to an IRF.org analysis on 45 studies based on the effects of incentives, researchers found that performance-based incentives positively affected performance and even helped attract top talents to companies.
Retirement Benefits
Like health insurance, retirement benefits offer your employees peace of mind. This is mainly the case for individuals who were working during the great recession of 2008, which rendered those without benefits and pensions homeless and hopeless.
According to a study to gauge the importance of pensions by forafinancial.com, with over 1000 respondents, retirement benefits double the chance that employees are satisfied by their perks. Also, over 30% of employees who don't get retirement benefits from their current employers are on the verge of quitting and looking for employment elsewhere.
Financial planning and personal finance remain a bit of a mystery to most people, which is why employees appreciate it when their employers budget for their future. You can improve the amount of retirement savings your employees have by fully or partially matching their monthly contributions and finding cheap ways like 401 Ks to offer these benefits.
Stock and Stock Options
Stock options are similar to performance bonuses because they give your staff a sense of ownership in the company's success. This helps establish an emotional link between employees and their work, making them see their work isn't just a contract but an opportunity to build something bigger than themselves that they will be rewarded for.
Employees love stock and stock options because if the company performs well, they're at an advantage. One study by inequality.org found that employees love stock and stock options because, for starters, employees with equity have more overall benefits and job security than those without stock and stock options.
Tuition Fees Reimbursement
Campus tuition fees have grown substantially in the last decade or so. According to a report by collegeboard.org, there has been an increase of 40% and 20% in tuition and other fees in private and public institutions, respectively.
Another report by Forbes indicates that the average tuition fee in Top 20 Universities is more than $100,000 for a four-year program. However, the catch is not working for over three years which is more than double the cost.
As a result, you should reimburse your employees for their tuition fees because they value this a lot. Also, they can work simultaneously as they study, which saves on the opportunity costs of being unemployed. This promotes employee loyalty and retention.
Wellness Program
A study done by acpjournals.org found that the deskbound nature of work-life in most American companies was having a detrimental effect on the health of employees. Sitting for long periods brings a host of negative health effects, such as an increased risk of cancer and chronic illnesses such as Type-2 diabetes and heart disease.
On your part, when employees are sitting for too long, you incur more healthcare costs and low morale among employees; as a result, they are less productive. However, some companies have come up with ways to combat this problem.
For starters, they have incorporated in-house wellness programs that offer therapy and one-time perks like biometric screening. Some wellness programs comprise initiatives aimed at promoting healthier behaviors in the workplace and shifting the workplace culture. Your company has different objectives and challenges to others, but you can offer wellness programs such as therapy and spa services to boost well-being and morale.
In conclusion, if you own a tech company, there are many suitable perks you can give your employees. These perks will promote happiness among your staff which will improve productivity and prevent them from leaving you and joining your rivals.