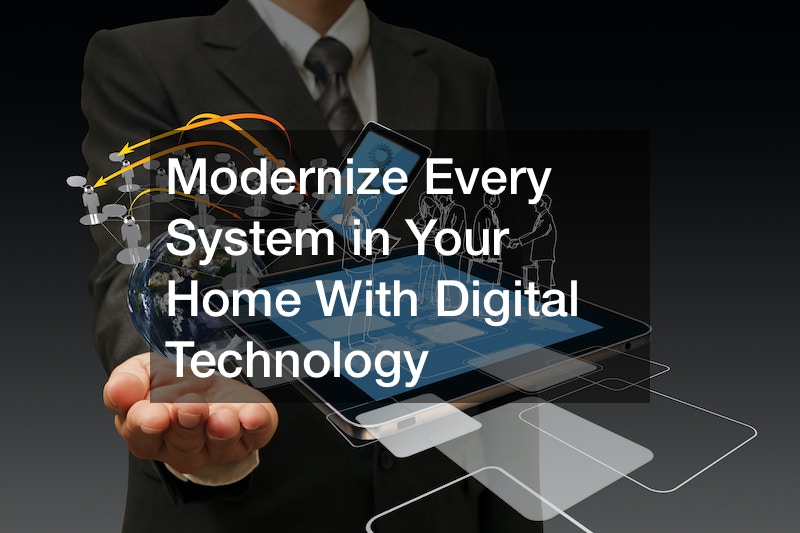 If you are interested in making your home more efficient and safer, the best thing you can do is look into how you can use digital technology to your advantage. There are lots of digital components that you can integrate into your home to make it smarter, including a smart countertop. You can install a smart home security system that lets you see who is knowing on your door even when you are at work. That way, you can unlock the door for a loved one remotely. Imagine how convenient that can be. Fortunately, you don't have to imagine it anymore. Every system in your home can be enhanced using different types of digital technologies. Here are some ways you can introduce digital technology to the different systems in your home.
Electrical System
Most homeowners are looking for ways to make their electrical systems safer and more efficient. One of the breakthroughs in home electrical system digital technology is the creation of the digital circuit break. Many people are talking about these and for a good reason. If you want your home to benefit from this smart innovation, you should look at how you can switch from an analog to a digital circuit breaker. If you have introduced a lot of wireless technology in your home and you have managed to automate the majority of everyday tasks, it doesn't make sense to go downstairs and come back with spiderwebs in your hair just because you want to flip a breaker manually.
It's time to rethink how you use the electrical system in your home. You might be able to overlook the cobwebs and inconvenience, but you should take your safety seriously. A lot of people are now working from home. This means you have more devices that draw power in the home anytime. It's crucial to ensure that your breaker technology is competent so you can prevent fires, overheating, or even small explosions. You must consider replacing your old breaker with a solid-state digital circuit breaker. Doing this will make your home way safer. It's also a great way to optimize your home's energy efficiency and give yourself more control over the electrical system.
The purpose of circuit breakers is simple. They monitor current to prevent issues like overheating. Once a circuit breaker detects a problem, it will cut off power. This usually happens when current levels are too high. The modern circuit breaker was developed sometime in the 19th century and hasn't changed over the years. While these are considered essential for the safety of your home, they are still not foolproof. Considering how much digital technology has advanced, you can agree that circuit breakers haven't moved with the times. It only makes sense to bring the same level of innovation you see in all the other areas of your home to the circuit breaker. Several manufacturers are rolling out tested digital circuit breakers with computing power, energy monitoring, and wireless connectivity.
Plumbing System
Have you ever imagined applying modern technology to your home's plumbing system? Well, you don't have to imagine anymore. There are lots of innovative plumbing products that you can integrate into your home's plumbing system. For instance, have you heard of smart faucets? These enable you to control your faucets using voice commands. The smart faucet can be connected to Alexa, Siri, or Google Assistant for better voice control. To do so, you will need to connect the faucet to electrical power. If there are no outlets under the sink, this means you may need to look into how you can have one installed. You will also need to download the app that is associated with the faucet. However, there currently is no voice control for temperature for most smart faucets. This means the faucet will deliver the water manually at the temperature you would have set. It's possible, however, to have the faucet deliver a specific amount of water.
As you might imagine, there are lots of advantages to using smart faucets. The first and major advantage is that they enable you to easily monitor your water usage. Apart from that, the app will give you a notification if a leak is detected. This means saving water becomes easier, and you end up paying less for utility bills.
Apart from smart faucets, you can also install smart leak and frozen pipe detectors in your plumbing system. Smart leak detectors are quite handy. Imagine the frustration of coming home to a flooded basement. Well, this becomes a thing of the past if you have a smart leak detector. Fortunately, these pieces of digital technology are quite cheap. You just have to part with around $50 to get one. Smart leak detectors also come with temperature sensors that notify you when your pipes are about to freeze. This prevents situations when your pipes end up bursting without you knowing. When you have such a device installed, you will get real-time updates on your smartphone. The good thing with these appliances is you can install them on your own. There are no wires needed, and they come with batteries that last up to two years.
Heating and Cooling
Most of the energy used by homes in the United States goes towards heating and cooling. Fortunately, there are lots of developments in this area that are making it possible to use less energy. In short, HVAC systems are becoming more efficient through the use of various digital technologies. One of the most beneficial components to include as part of your HVAC is a smart thermostat. Also known as programmable thermostats, smart thermostats are way better than manual ones when it comes to the level of control and flexibility they give you. With a smart thermostat, you will be able to easily manage your home temperature. You only have to set your desired temperature once. On all the other days, the thermostat will adjust to achieve your desired temperature without you making any manual changes. You can also program your thermostat to adjust to your schedule. For instance, you can set particular temperatures for when you are away or asleep.
The only thing to keep in mind when it comes to a programmable thermostat is that you are going to part with a significantly higher upfront cost. This is because they have more advanced features. A smart thermostat takes your energy efficiency to higher levels. They can be connected to your home WiFi, and as you might imagine, this means you can communicate with the thermostat remotely. No matter where you are, you will be able to make changes to your home temperature using your smartphone. A smart thermostat will also provide you with energy reports and it will notify you when it's time to swap out your current filter for a new one. Newer smart thermostats also work with Alexa, Sir, and Google Assistant.
According to the Department of Energy, upgrading to a smart thermostat can help you save up to 10% on energy spending each year. With a smart thermostat, making adjustments to your HVAC is quite easy. The more advanced thermostats can analyze trends to come up with more ways to use less energy. Apart from the saving side of things, a smart thermostat is more likely to deliver the temperature that is just right for your home than a manual one. This will make your home feel so nice. Now imagine your home being at that temperature all the time. That means you will never have to sacrifice comfort. Say goodbye to countless trips to the thermostat and cold spots in your home. Say hello to convenience, savings, and comfort.
If you are not sure which smart thermostat to choose, HVAC contractors can show you the best on the market. Upgrading to a smart thermostat is a must if you want to save money on the energy used by your air conditioner system. You should also look into ductless heating and cooling. This is another great way to save money on heating and cooling costs.
The Roof
Did you know that you can also make use of digital technology on the roof? It's quite easy, actually. All you need to do is install some solar shingles. That way, instead of your roofing doing one job, it starts generating energy too. Solar shingles combine the reliability of traditional shingles and solar-generated power. If you are considering solar, and you are really not attached to how conventional shingles look, solar shingles might just be what you need. They can be used as your primary roofing materials, or you can just throw them in on specific sections of your roof.
In the past, solar shingles are super flexible, and things. As such, they had to be installed on top of other roofing materials. However, nowadays, you can find rigid solar shingles that can be used as the primary roofing materials. In other words, you can install them as an alternative to any other roofing materials, not as an additional layer. You can have a roof on your home that's entirely covered with solar shingles. The only thing to note is that such a move would be super expensive.
Over time, manufacturers have managed to come up with mature and improved designs of solar shingles. If you are thinking about installing solar shingles in your home, you can find aesthetically pleasing options to use. This means you won't have to compromise curb appeal trying to chase better functionality. You can achieve both. Solar shingles look like any other roofing material, which means they can complement your home decor. Once you install them, it means you won't need to burden your roof with the weight of solar panels. The good thing is you can combine them with regular shingles if need be. Because solar shingles are a new technology, they are quite competitive when it comes to solar power generating capacity. They produce about 13-17 watts of electricity.
If you install solar shingles properly, they will be able to withstand harsh winds, rain, and snow. The best way to find out how to take advantage of solar shingles is to find a roofing contractor who specializes in solar shingle roofing services. They will guide you each step of the way.
Home Security System
Home security is very important. You need to feel safe in your home. Fortunately, nowadays, smart home security systems are making it more difficult for unwelcome visitors to enter your home. These digital technology-based systems run smoothly over WiFi connections, and they can work with voice commands. You also have the ability to control your smart home security system remotely using a mobile phone or tablet. This means that you can still monitor and control what happens at home, even if you are away. For instance, you can access camera footage, adjust lights, lock the doors, and control other features of the home security system. The system can also alert you and the fire department if a smoke alarm goes off.
As a bonus, lots of smart home security systems also come with non-security controls. For instance, they support the use of smart plugs. You will basically be able to control all your household appliances remotely. The systems can also be paired with smart thermostats to enable you to adjust your home's temperature while you are away. This functionality gives you greater control and an opportunity to significantly lower your bill. If you forget to turn off the lights before you leave home, you can simply do it remotely. You can also adjust the temperature if you know you won't be home for a while to stop the HVAC from consuming lots of energy unnecessarily.
There are lots of ways to use digital technology in your home. All you need to do is take a look at all the systems in your home and try to think about ways to go digital. While the majority of appliances that enable you to make your home digital are impressive in the way they function, you should still shop wisely. You need to buy everything from reputable brands. Some items are just overhyped, and they won't function as expected. The best way to ensure that whatever you are buying is not marketed falsely is to go through reviews on trusted sites on the internet. People who have bought whatever device you are interested in will post reviews letting your know whether it's a wise move or not. If your budget doesn't allow you to make these upgrades, you can look into business loaning and personal financing options.